Rick Jenkins Biography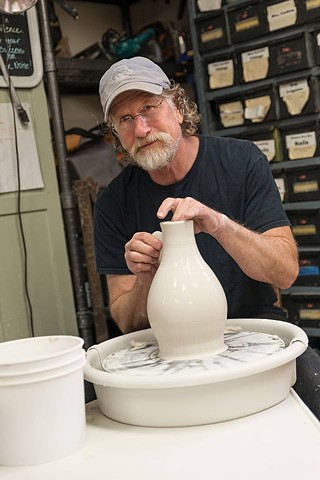 Photo by Brooke Burton, 2018
I was born in 1955 and named David R. Jenkins, but from day one called Rick. Why do parents do that to their children? My father David was a commercial sign painter. His father a carpenter and owner of a small lumber yard. My mother, Patricia was a nurse but also a hobby painter, stained glass artist, and builder of houses. Her mother, also a hobby artist who was taught by her mother how to paint. I have a large painting done by my great grandmother hanging in the parlor of my restored 1880's mining shack painted about the same year it was built. I had no chance to be anything else than a maker of things, much like telling a fish to swim and he saying "I have no other choice but to swim."
Clay entered my life at an early age even though I showed some promise as a painter. To the amazement of my high school counselor, I dropped my typing class for another pottery class so I could have two pottery classes a day.
I live in one of the most beautiful cities in America and I had no desire to leave it so my only choice was to go to Boise State University (BSU) and there I studied under John Takehara for almost six years.
I graduated with a BFA in Fine Arts and a Minor in Education and with almost 50 extra credits because I kept taking the same classes over and over. It wasn't that I was a slow learner but that I didn't know what to do with my life. I knew I wanted to teach but jobs were scarce in Boise and I didn't want to move so I became a six-year senior even though I took at least 20+ credits each semester.
Studying under John Takehara was hard; he was a person who believed in the Asian way of struggling though failures, no easy shortcuts. I was hired to be his lab assistant my sophomore year and worked for him the rest of my time studying at BSU. I learned early if you wanted our pots fired you loaded the kiln, so for almost six years I loaded every kiln just so I could get my pots in the sweet spot of the kiln. A man of a few words and stern disciplinarian, John gave me little in the form of an education, but what he did do is bring in some of the most famous potters of that era. The likes of Paul Soldner, Rudy Audio, Toshiko Takaezu, Ruth Dukmorth, Daniel Rodes, Jack Troy, Peter Lane, Dave Shaner, Tom Coleman, Frank Boyden, Susan Black and so many more. My education was from them in the form of two-day workshops.
I learned how to tear down brick kilns and rebuild them into salt firing kilns and what body reduction meant. In 1979, while in my sixth year in school I got a call from a former classmate, Craig Sofaly, asking if I would be interested in teaching a beginning black and white photography class once a week for six weeks. This, serendipitous part time job, became my place to reside for 33 years. To take his place and his boss's place and to become the Boise City Art Center Coordinator, a job I am proud I have occupied for all those years.
After designing a new art center in 1996 and seeing it's construction and the growth of it's programs for pre-schooler to seniors, I retired in 2012 to my current life of husband, father of four children, grandfather of 12, potter, gardener and historic preservationist.
Currently retired but still teaching part-time once a week to students who keep returning and now have also become friends. Part of my time is spent in my home studio located in the historic district of Boise, Idaho, part in my beautiful garden and part in a historic mining town of Atlanta, Idaho, first established in 1864. I have currently deconstructed three buildings; marking and numbering each individual board so as to reconstruct them as they were over a hundred years ago. I also find and repurpose up to every kind of rusty metal, old wood or windows and doors from houses being demolished to be used in a new life in one of my places.
My life is full in so many ways to a point I wish I had another lifetime to live. Creating for me will only stop when my heart stops beating.
2012 - Present: Artist, Craftsman
Historic Preservationist, Gardener
1979 – 2012: Manager, Educator
City of Boise Art Center
1979: Boise State University,
BFA in Arts, Minor in Education
1973: Boise High School graduate
- Boise City Art Commissioner for 11 years
- Two-time City of Boise Mayor's Award
for Excellence in Art Education
Wife – Evy Jenkins
Father of 4
Grandfather of 12
5th Generation Idaho Resident
Lover of "Love", Hater of "Hate"
Currently living in Boise, Idaho;
part-time in Atlanta, Idaho